We all want our nails to look great but to achieve that; you need to show them some love and keep them healthy.
Do you know if you have healthy nails?
Have a look…
Are they short or long? Do they have ridges on them? Do you have any spots or marks on them? What colour are they?
All of these things are key indicators to your fingernail health – and healthy nails tend to be stronger and longer.
Here are the 5 signs to look out for to determine whether you have healthy nails?
Your nail colour
What is the colour underneath your nail?
Generally, healthy nails should have a soft pale pink colour.
Ideally, when you press down on the nail and make the colour disappear, before seeing it rapidly flood back when you release the pressure. This shows there is good blood flow to the tissue beneath the nail.
No ridges in nails
Many of us have fingernail ridges that run vertically down our nails. If they are horizontal, this is more of a problem.
These can indicate an injury to the nail or even a lack of something important in your diet.
Inner strength
If your body is healthy, then this generally shows in your nail strength.
If they seem to stand up to some punishment and do not break too easily, this is a good indicator that you have healthy nails. On the other hand, a lack of hydration can cause brittle nails. Remember, strength is health.
Cuticles
Your cuticles are there to protect the new nail that is growing through, so healthy cuticles tend to lead to healthy nails.
They also help to keep germs and dirt away, so resist the urge to cut your cuticles.
Instead, hydrate and care for them, maybe start by applying cuticle oil regularly.
Healthy skin
The skin around your nail is as important as the nail itself, so stop biting or picking!
You might want to consider how you treat your nails daily.  Especially with the recent overuse of hand sanitisers, this alone can massively dry out your hands and affect your nails.
Moisturising your hands will help to keep your cuticles healthy and support nail growth, especially in the winter when the skin can dry out more. Do it on a night, and then you're not washing it off before it's soaked in.
So, now you know how to spot if you have healthy nails that are in tip-top condition, but how do we keep them this way?
We have one solution, and it's to take our Hair, Skin and Nails supplements.
Our Hair, Skin & Nails capsules offer you an easy way to help:
Strengthen nails you will be proud of
Stimulate hair growth for healthy-looking hair
Your skin by reducing fine lines and wrinkles by increasing skin elasticity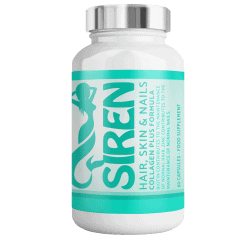 In each jar, 60 Food supplements capsules are containing:
Collagen, Vitamin C, Iron, Hyaluronic Acid, Grapeseed Extract and Biotin.
Give yourself that outer glow that you get from glossy hair, smooth skin and shiny, healthy nails!!
To buy now, simply click here