When the first signs of summer surface it's like a breath of fresh air – and your skin loves it too.
As we leave a cold wintery season behind it's essential, we alter our skincare routine as we head into a hopefully warmer Summer.
Here are a few ways you can transition your summer skincare routine:
Opt for milder lighter cleaners and creams 
When the temperatures begin to rise, your skin won't need all the additional moisturisers it needed in Winter.
As we see the temperatures warm it allows your skin to produce more of its natural oils.
So instead of using layers of hydrating cleansers and creams, opt for milder and lighter equivalents. Foaming water facial cleansers are a great fresher option for spring.
Use gentle exfoliators
The winter weather may have left your skin dry. It's important to remove the layers of dead skin and what better way than with gentle exfoliator and if it includes glycolic acid all the better.
Glycolic acid is a colourless and odourless compound that helps remove dead cells from the top layer of your skin.
Remember, over-exfoliation can make your skin more sensitive to the sun. So, go easy on the exfoliators, maybe limit them to a fortnightly treat.
Swap to a moisturiser that includes SPF
We are generally out and about more as the weather improves, which means more sun exposure. Now is a good time to swap your base layer moisturiser to one that includes SPF, so you're protecting yourself from harmful UV rays.
There are other tips, like clear out old and out of date make-up and give your make-up brushes a well-deserved clean or buy some new ones if they are past it, the list goes on.
Hopefully, after reading this, you might be changing your summer skincare routine and switching things up and we are certain you'll be interested to hear that our Hair, Skin and Nails collagen plus formula supplements are well worth adding into the mix too.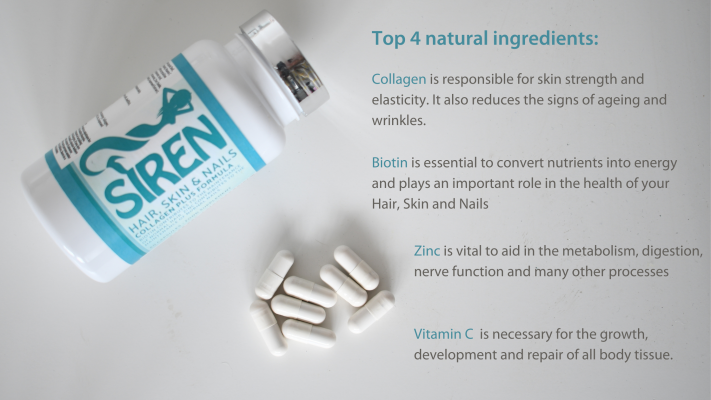 By taking 2 capsules a day (one month's supply per bottle) we can guarantee firmer more youthful looking skin, stronger glossier hair and stronger nails.
To read more about our Hair, Skin and Nails capsules click here.
Don't take our word for it, see below for one of our latest customer reviews on this very product.
"Started on my Siren journey on the 11th April, sceptical at first, but WOW what a difference only 3 weeks in and I see a massive change, my nails are normally very thin, as is my hair. My nails have grown slightly but the strength is a full 360. My hair feels thicker and my skin feels great too".