Have you ever used sunless tanning products?
If not, maybe now is the time!
Many people have struggled to get a nice even tan this last 18 months, with all the lockdowns and travel restrictions, and now the days are getting shorter, and the sun is getting weaker.
Siren Living manufacture an all-natural product called Summer Skin Plus.
It's a capsule rather than a lotion, so no yellow-stained palms after applying, no dry time required and no greasy marks on your clothes, just a lovely summer glow on your skin.
When you start to take Summer Skin Plus capsules, you nourish your body from within.
SIREN Summer Skin Plus is vegetarian-friendly and boosts your body's natural ability to tan.  It helps your skin to tan more quickly.   It contains safe and effective vitamins, minerals and nutrients to support your skin in the sun.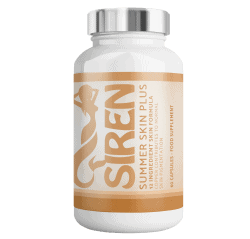 These include:
Copper contributes to normal skin pigmentation
Iron contributes to the normal energy-yielding metabolism
Riboflavin contributes to the maintenance of the skin
Selenium contributes to the function of the immune system
Vitamin C contributes to normal collagen formation for the normal function of the skin
This daily supplement helps prep skin for sun exposure while supporting normal skin health,
Summer Skin Plus is a unisex product and ideal for any person who wants to achieve a lovely healthy sun-kissed glow.
We sell these capsules online here and you can buy a bottle (a month's supply) at a time. Alternatively, you can benefit from our monthly subscription offer and save money.